We have advance passes to see JEFF, WHO LIVES AT HOME in Kansas City and we want you to have them!
The screening of JEFF, WHO LIVES AT HOME is Tuesday, March 13 at AMC Mainstreet at 7:30 PM.
To register for the random drawing to determine the winners of two passes each, just fill out the form below and we'll draw winners on Friday March 9.
Synopsis: On his way to the store to buy wood glue, Jeff looks for signs from the universe to determine his path. However, a series of comedic and unexpected events leads him to cross paths with his family in the strangest of locations and circumstances. Jeff just may find the meaning of his life… and if he's lucky, pick up the wood glue as well. Jeff, Who Lives at Home, stars Jason Segel, Ed Helms, Judy Greer and Susan Sarandon. Penned by the writer/director team of brothers Jay and Mark Duplass (Cyrus), this is the story of one man searching for the meaning of life while running to the store to buy wood glue.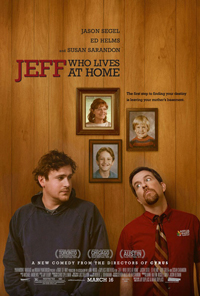 Good luck!
No more submissions accepted at this time.