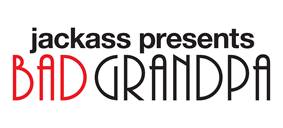 We have advance passes to see JACKASS PRESENTS: BAD GRANDPA Tuesday, October 22 at 7:30 PM at Screenland Armour and we want you to have them!
Here's the thing: You gotta get creative.
The best 30 BAD GRANDPA gifs from the trailer of the movie will win two passes each!
All you have to do is go to the JACKASS PRESENTS: BAD GRANDPA gif creator and adjust the time range to the part of the trailer you want to gif. Pick your start and end time, add text, and hit the "create gif" button.
On the next page, your gif will be shown. Right-click on the gif, select "copy image URL" and paste that link into the form below along with your name and email address. The best 30 entrants with links that work will win the tickets!
Synopsis:
86 year-old Irving Zisman is on a journey across America with the most unlikely companions, his 8 year-old Grandson Billy in JACKASS PRESENTS:  BAD GRANDPA. This October, the signature Jackass character Irving Zisman (Johnny Knoxville) and Billy (Jackson Nicholl) will take movie audiences along for the most insane hidden camera road trip ever captured on camera.  Along the way Irving will introduce the young and impressionable Billy to people, places and situations that give new meaning to the term childrearing. The duo will encounter male strippers, disgruntled child beauty pageant contestants (and their equally disgruntled mothers), funeral home mourners, biker bar patrons and a whole lot of unsuspecting citizens.
Real people in unreal situations, making for one really messed up comedy.
Opening Date: Friday, October 25, 2013
Official Website: www.jackassmovie.com
Rating: Rated R for strong crude and sexual content throughout, language, some graphic nudity and brief drug use.
Good luck!
No more submissions accepted at this time.