Alright, Scene-Stealers readers—it's time to do another texting giveaway for a free advance screening!
We have advance passes to see I AM NUMBER FOUR Thursday, February 17th at 7:00PM at the AMC Town Center 20 and we have some passes to give away!
Synopsis: A teenage fugitive with an incredible secret races to stay one step ahead of the mysterious forces seeking to track and destroy him in this sci-fi action thriller from director D.J. Caruso. With three dead and one on the run, the race to find the elusive Number Four begins. Outwardly normal teen John Smith (Alex Pettyfer) never gets too comfortable in the same identity, and along with his guardian, Henri (Timothy Olyphant), he is constantly moving from town to town — the perpetual new kid in a series of strangely familiar schools. Despite the fact that his nomadic lifestyle has made it difficult to form meaningful connections, John experiences the joy of first love with a beautiful young woman (Dianna Agron) and begins to unlock his full potential after arriving with Henri in a small Ohio town. With each passing day, John gains a stronger grasp on his extraordinary new powers, and his bond to the beings that share his fantastic fate grows stronger.
Here's how to win:
Text the word ESCAPE, a space and your zip code to 43549 for a chance to win a complimentary mobile pass for two to see I AM NUMBER FOUR.
The studio will randomly draw winners from all entries on Wednesday, February 16. Winners will simply show their winning text message at the door for admittance to the screening.
There is no additional charge for texting.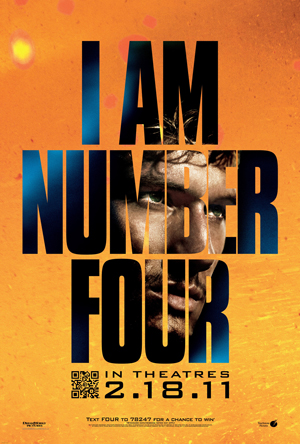 Good luck!