We have free advance passes to a Kansas City screening of the new comedy HORRIBLE BOSSES and we want you to have them!
All you need to do is fill out the contact info on the form below and tell us about the worst boss you ever had. The best "worst" stories will win free passes! We also have some very cool movie schwag prize packs to give away to our favorite entries: You post 'em. Then we print them — like this.
HORRIBLE BOSSES, starring Jason Sudeikis, Jason Bateman, and Charlie Day, screens at AMC Studio 30 (119th & I-35) on Tuesday, July 5 at 7:30 pm.
Synopsis: For Nick (Jason Bateman), Kurt (Jason Sudeikis) and Dale (Charlie Day), the only thing that would make the daily grind more tolerable would be to grind their intolerable bosses (Kevin Spacey, Colin Farrell, Jennifer Aniston) into dust. Quitting is not an option, so, with the benefit of a few-too-many drinks and some dubious advice from a hustling ex-con (Jamie Foxx), the three friends devise a convoluted and seemingly foolproof plan to rid themselves of their respective employers…permanently. There's only one problem: even the best laid plans are only as foolproof as the brains behind them.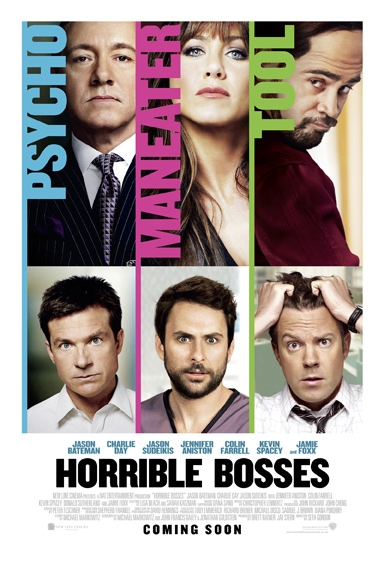 Good luck!
cforms contact form by delicious:days