We have advance passes to see HERE COMES THE BOOM and we want you to have them!
The screening is Tuesday, October 9 7:30 PM at the Cinemark Merriam in Kansas City.
All you have to do to win is fill out the form below and you'll be entered into our random drawing to win passes!
Synopsis: In the comedy Here Comes the Boom, former collegiate wrestler Scott Voss (Kevin James) is a 42-year-old apathetic biology teacher in a failing high school. When cutbacks threaten to cancel the music program and lay off its teacher (Henry Winkler) Scott begins to raise money by moonlighting as a mixed martial arts fighter. Everyone thinks Scott is crazy – most of all the school nurse, Bella (Salma Hayek) – but in his quest, Scott gains something he never expected as he becomes a sensation that rallies the entire school.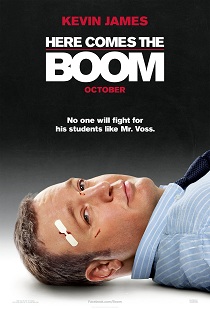 Good luck!
No more submissions accepted at this time.