It's been a long time since "Fight Club," but finally somebody besides David Fincher has the balls to adapt a book by Chuck Palahniuk. Here's your chance to see Sam Rockwell and Anjelica Huston in "Choke," a Sundance festival favorite about a sex addict who can't feel anything. We're giving away 50 'admit-two- passes to the advance screening on Wednesday, Sept. 24 at the AMC Barrywoods theater (8101 Roanridge Rd.). The screening starts at 7:30pm.
[youtube HPjVMADisoU nolink]
If you are able to fill out the form below, you are one of the first 50, and the tickets will be mailed to your house. Please do not sign up more than once, and don't try to be all tricky with multiple email accounts and addresses. If you know someone else that would want to go, point them right here instead of doing their dirty work for them.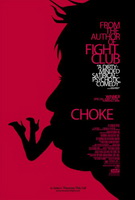 Also, if the screening sells out, be sure and keep checking back at this post. Often times, Scene-Stealers sitegoers will let you know if they aren't using their tickets! If you are one of the lucky 50 winners, please remember to get there early. These screenings are often overbooked. Your pass will have more details on this. Good luck!
Giveaway is SOLD OUT. Thanks!
No more submissions accepted at this time.