We have advance passes to see the new comedy BRIDESMAIDS starring Kristen Wiig Tuesday May 10 at the AMC Town Center at 7:30pm and we want you to have them!

All you have to do is fill out the form below and we'll have a random drawing on Sunday May 8 to determine the winners! Each winner will receive two passes to the film.

This spring, producer Judd Apatow and director Paul Feig invite you to experience "Bridesmaids." Annie (Wiig), a maid of honor whose life unravels as she leads her best friend, Lillian, and a group of colorful bridesmaids on a wild ride down the road to matrimony. Annie's life is a mess. But when she finds out her lifetime best friend is engaged, she simply must serve as Lillian's maid of honor. Though lovelorn and broke, Annie bluffs her way through the expensive and bizarre rituals. With one chance to get it perfect, she'll show Lillian and her bridesmaids just how far you'll go for someone you love.

Remember to get there early; these screenings are often overbooked to ensure a full house!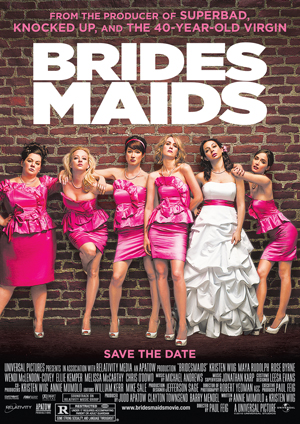 cforms contact form by delicious:days