Okay, everybody, we're going to do this one a little differently. I'm assuming a lot of you will want tickets to this movie, and we only have 50 to give away, so rather than doing the first 50 signed up, we'll do a random drawing on Friday, Oct. 3 to determine the 50 lucky winners, who will then receive an email and instructions on how to print out their 'admit-two' pass!
[youtube CfsWbSYhWHM nolink]
Leonardo DiCaprio and Russell Crowe star in the new Ridley Scott ("Gladiatior," "Blade Runner") movie "Body of Lies." It's based on Washington Post columnist David Ignatius' 2007 novel about a CIA operative who uncovers a lead on a major terrorist leader suspected to be operating out of Jordan. When he devises a plan to infiltrate his network, he must first win the backing of a suspicious CIA veteran and the head of Jordanian intelligence. Although ostensibly his allies, the operative questions how far he can really trust these men without putting his entire operation—and his life—on the line.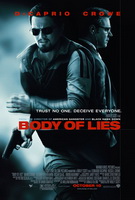 The screening is set for Monday, Oct. 6 at the Olathe Studio 30 (119th & Strang Line) at 7:30pm. If you've won, you will receive an email on Friday, Oct. 3 with instructions on how to print off your 'admit-two' pass online. Please bring it to the screening, and remember to get there early. These screenings are overbooked to ensure a full house, and this one will be big, no doubt. Good luck! This film is rated "R" for strong violence including some torture, and for language throughout. No one under 17 will be admitted to see this film unless accompanied by a
parent or adult guardian.
No more submissions accepted at this time.