We have advance passes to see 30 MINUTES OR LESS on Monday, August 8 at the AMC Town Center at 7:30pm, and we want you to have them!
All you have to do is fill out the form below and we'll pick winners at random on Thursday, August 4.
Synopsis: Small-town pizza delivery driver Nick (Jesse Eisenberg) stumbles into an elaborate crime scheme when he's abducted by a pair of ambitious criminals (Danny McBride and Nick Swardson) who coerce him into robbing a bank on a strict timeline. Desperate, Nick implores his former best friend Chet (Aziz Ansari) to help him out of the predicament. But with each attempt to thwart the would-be criminal geniuses, Nick and Chet find their dire situation spinning faster out of control.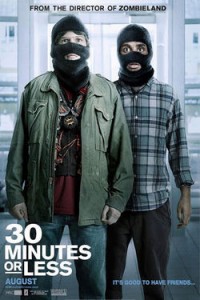 Good luck!
cforms contact form by delicious:days