We have advance passes to see 21 JUMP STREET in Kansas City and we want you to have them!
The screening of 21 JUMP STREET   is Thursday March 15 at the AMC STUDIO 30 at 7:30pm.
To register for the random drawing to determine the winners of two passes each, just fill out the form below and we'll draw winners on Monday March 12.
Synopsis: In the action-comedy 21 JUMP STREET, Schmidt (Jonah Hill) and Jenko (Channing Tatum) are more than ready to leave their adolescent problems behind. Joining the police force and the secret Jump Street unit, they use their youthful appearances to go undercover in a local high school.  As they trade in their guns and badges for backpacks, Schmidt and Jenko risk their lives to investigate a violent and dangerous drug ring.  But they find that high school is nothing like they left it just a few years earlier – and neither expects that they will have to confront the terror and anxiety of being a teenager again and all the issues they thought they had left behind.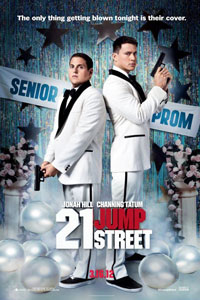 Good luck!
No more submissions accepted at this time.