We've got 50 – count 'em! – 50 admit-two passes to see the upcoming comedy "The Hangover," directed by Todd Phillips ("Old School"), and we want to give them to you. The movie doesn't even open until June 5, but we want you to see it early!
The advance screening is on Wed. May 20, 2009 at the refurbished and restored AMC Mainstreet (P & L District) at 8pm. All you need to do is fill out the form below and cross your fingers.
The movie stars Bradley Cooper, Zach Galifianakis, Ed Helms, Jeffey Tambor, Mike Tyson, and Heather Graham. Synopsis: A Las Vegas-set comedy centered around three groomsmen who lose their about-to-be-wed buddy during their drunken misadventures, then must retrace their steps in order to find him.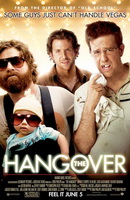 We'll have our drawing on Monday, May 18 and there will be 50 people picked at random. Each will receive an email with instructions on how to print off their passes for Wed. May 20. Good luck!
"This film is rated "R" for pervasive language, sexual content including nudity, and some drug material. No one under 17 will be admitted to see this film unless accompanied by a
parent or adult guardian." 
cforms contact form by delicious:days