We have free advance passes to a Kansas City screening of TRANSFORMERS: DARK OF THE MOON in 3D and we want you to have them!
In addition, each Tuesday we will be giving away a prize pack of cool TRANSFORMERS movie schwag to a random person with the right answer to the trivia question in the form below!
The screening is Monday, June 27 at the Cinemark Merriam 20 at 7:30 PM and all entries below will be considered for that drawing.
To win a prize pack, simply answer the question correctly. We'll have a drawing on Tuesday June 14 and another on Tuesday June 21.
Synopsis: Shia LaBeouf returns as Sam Witwicky in TRANSFORMERS: DARK OF THE MOON. When a mysterious event from Earth's past erupts into the present day it threatens to bring a war to Earth so big that the Transformers alone will not be able to save us.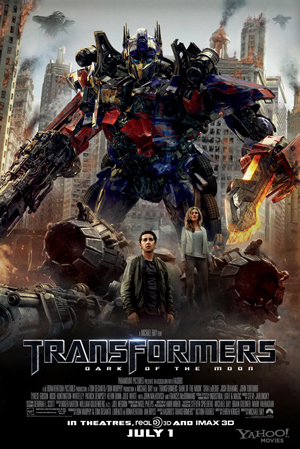 Good luck! Prize pack winners will be drawn on Tuesday June 14 and Tuesday June 21. Winners for movie passes will be drawn on Thursday June 23.
cforms contact form by delicious:days