We have one "Terminator Salvation" videogame for PlayStation 3 and we want one of our Scene-Stealers readers to have it!
If you don't have PS3, we are also giving away the Xbox 360 version here.
All you have to do is fill out the form below. We'll pick a winner at random on Wed. June 10, and the game will be mailed to the winner.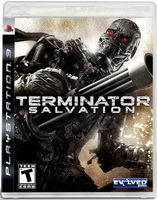 The game offers players the chance to assume the role of John Connor, a soldier in the resistance, battling for survival against the far superior forces of Skynet. "Terminator Salvation – The Videogame" is a third-person action game with concentrated armed combat against all of the Skynet enemies from the film while encountering new enemies specifically designed for the game.
Open to residents of the U.S. 16+. Good luck!
cforms contact form by delicious:days