The makers of UNDERWORLD AWAKENING have provided us with some movie schwag and a $50 Sony gift card to celebrate the release of UNDERWORLD AWAKENING in 3D.
One grand prize winner, picked at random, will receive an UNDERWORLD AWAKENING t-shirt, miniposter, and a $50 Sony gift card. Four runners-up will get the UNDERWORLD AWAKENING t-shirt and miniposter. All you need to do to enter is fill out the form below.
Winners will be picked at random on Friday January 27.
Synopsis: UNDERWORLD AWAKENING brings a stunning new dimension to the epic battle between Vampires and Lycans, as the first film in the franchise to shoot in 3D. Kate Beckinsale, star of the first two films, returns in her lead role as the vampire warrioress Selene, who escapes imprisonment to find herself in a world where humans have discovered the existence of both Vampire and Lycan clans, and are conducting an all-out war to eradicate both immortal species.
In Theaters January 20, 2012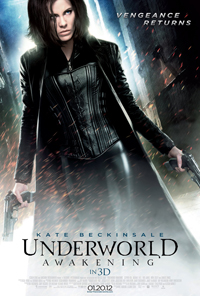 This contest is open only to residents of the United States. Good luck!
No more submissions accepted at this time.