The Scene-Stealers summer of prizes continues. Now we're getting into autographed movie collectibles–nice. Straight from Paramount Pictures, we have an authentic full-sized theatrical poster of "The Love Guru" signed by six of the film's stars. This poster, as you can see below, is signed by: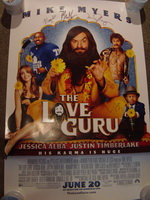 Mike Myers
Justin Timberlake
Verne Troyer
Meagan Good
Romany Malco
Manu Narayan
As an extra added bonus (and because you are loved), the winner will receive a magic 8-ball of the Love Guru himself that can answer all of your deepest personal questions with a shake of his "tail." This item is so exclusive, you can't even get it from the Love Guru's Book Club. And I'm assuming you have to look underneath for your answer.
"Will I win the autographed poster and magic 8-ball?"
"Reply hazy. Ask again later."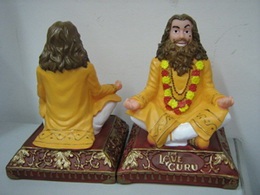 The movie opens Friday, June 20, but we'll run the contest a little longer. We will randomly pick a winner from member of the Scene-Stealers Army who fills out the form below on Monday, June 30. Contest is limited to entries in the continental U.S. only, and you must be at least 12 inches tall and slightly deranged to enter. Good luck and please remember to fill out the form correctly or we'll mail your poster to some random freak instead.
No more submissions accepted at this time.