We have a copy of the new HANSEL & GRETEL: WITCH HUNTERS Blu-ray/DVD Combo Pack and we want you to have it.
To sweeten the pot, we are pairing it with a $50 iTunes gift card!
All you have to do to win is fill out the form below and we'll pick a winner at random.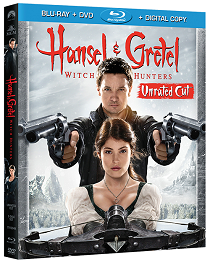 Synopsis: After getting a taste for blood as children, Hansel (Jeremy Renner) and Gretel (Gemma Arterton) have become the ultimate vigilantes, hell bent on retribution. Now, unbeknownst to them, Hansel and Gretel have become the hunted, and must face an evil far greater than witches…their past.
Good luck!
cforms contact form by delicious:days