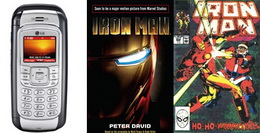 If you live anywhere in the United States, here is your chance to win an "Iron Man" prize pack. The package includes a vintage issue of the "Iron Man" Marvel comic book (#254 to be exact), the novelization of the film by Peter David, a mini-poster from the movie and…wait for it…a free LG VCAST cell phone! How a cell phone fits in with the promotion of "Iron Man," I have no idea, but there you have it. We're not going to balk at giving our loyal readers some cool, free technology.
[brightcove 1442372066 nolink]
Here are some of the stats on the new phone (click here for more info):
MULTIMEDIA
• V CAST Capable – stream and download video clips (15 fps) with high-speed EvDO technology†
• MP3 Player with Customizable Equalizer
• Dual Speakers for Stereo Sound
• MiniSD External Memory Port to Store Pictures,* Videos,* Sounds** and MP3 Music
*User-generated pictures and videos only, not from downloads.
**Voice memos and sounds received via MMS.VIDEO/CAMERA
• 1.3 Megapixel CMOS Camera with Flash and Business Card Reader
• Record 15-Second Video Clips (15 fps)
• Save up to 315 Videos @ 176×144 or 153 Videos @ 320×240 Pixels
• Video (Camcorder) Format: 3g2
• Camera Resolutions: 1280×960, 640×480, 320×240, 176×144, 160×120 Pixels
• Zoom: Up to 4x (varies by resolution)*
• Save up to 365 Photos @ 160×120 or 16 Photos @ 1280×960 Pixels
• LCD Dual Mode for Self-Portraits
• Close-up Mode for Photos at Close Range*
• Self Timer: 3, 5 or 10 seconds
• Customizable Brightness,* White Balance,*Shutter Sound, Color Effects, Photometry, Orientation (Portrait/Landscape)
• Night Mode
*Adjustments available in both camera and video modes.MOBILE MEDIA
• Mobile Web E-mail – easy access to Hotmail®, AOL® or Yahoo!® e-mail accounts†
• Wireless Sync E-mail (BREW® E-mail Client)†
• Get It Now® Capable – download games, ringtones, wallpapers and more†
• Mobile Instant Messaging (IM)†
• Multimedia Messaging Service (MMS) – send and receive messages with text, sounds, photos or videos†
• Enhanced Text Messaging (SMS/EMS)†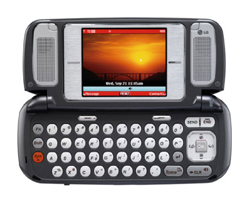 Just enter your name, address, and email in the form below. We will pick one lucky winner at random to receive the "Iron Man" prize pack. Also please note that the LG cell phone is for use with Verizon Wireless subscribers only. Don't forget to keep checking our giveaway section for more great stuff and good luck!
All entries must be received by Monday, May 12. Please fill out the form below.
This contest is over. Thanks for your submissions!
cforms contact form by delicious:days