Wes Anderson's stop-motion animation adaptation of Roald Dahl's classic children's book "Fantastic Mr. Fox" is out now in select cities and opens wide on Wednesday.
We've got three prize packs from the movie that contain: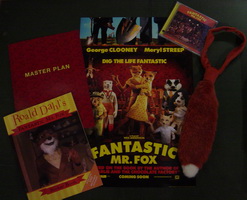 One Soundtrack
One Mini Poster
One Fox-tail Tie
One Sticker Book
One Master Plan Folder
As always, with Wes Anderson movies, the soundtrack is full of great stuff. Here's the track listing:
1. "American Empirical Pictures"*
2. "The Ballad of Davy Crockett" – The Wellingtons
3. "Mr. Fox in the Fields"*
4. "Heroes and Villains" – The Beach Boys
5. "Fooba Wooba John" – Burl Ives
6. "Boggis, Bunce, and Bean"*
7. "Jimmy Squirrel and Co."*
8. "Love" – Nancy Adams
9. "Buckeye Jim" – Burl Ives
10. "High-Speed French Train"*
11. "Whack-Bat Majorette"*
12. "The Grey Goose" – Burl Ives
13. "Bean's Secret Cider Cellar"*
14. "Une Petite Île" – Georges Delerue
15. "Street Fighting Man" – The Rolling Stones
16. "Fantastic Mr. Fox AKA Petey's Song" – Jarvis Cocker
17. "Night and Day" – Art Tatum
18. "Kristofferson's Theme"*
19. "Just Another Dead Rat in a Garbage Pail (behind a Chinese Restaurant)"*
20. "Le Grand Choral" – Georges Delerue
21. "Great Harrowsford Square"*
22. "Stunt Expo 2004″*
23. "Canis Lupus"*
24. "Ol' Man River" – The Beach Boys
25. "Let Her Dance" – Bobby Fuller Four
*Composed, Conducted, and Produced by Alexandre Desplat
Fill out the info here and we'll have a random drawing on Monday, Nov. 30 to determine the winners.
Good luck!
cforms contact form by delicious:days