We have multiple copies of the 2011 remake of Footloose on DVD and we want to make sure they go to warm, appreciative homes.
All you have to do to get entered into a drawing to win a copy of Footloose on DVD is fill out one of the forms below. It's simpler than a two-step.
Synopsis: Newcomer Kenny Wormald stars as Ren MacCormack, a city kid transplanted to the small town of Bomont where dancing has been outlawed. Ren goes up against Bomont's reverend (Dennis Quaid) to challenge the ban with the help of the minister's daughter (Julianne Hough, "Dancing with the Stars") and in the process reminds the entire town that dancing is more than youthful exuberance—it's a celebration of life. The film also stars Andie MacDowell (Beauty Shop) and Miles Teller (Rabbit Hole) and features an outstanding soundtrack with musical artists including Blake Shelton, Big & Rich, Ella Mae Bowen and more.
The Footloose DVD  includes over an hour of bonus features such as deleted scenes, a look back at the original film, featurettes on the stars and their dancing, commentary by Brewer, music videos and more.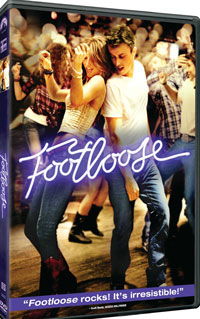 To enter fill out the form below and we'll choose a winner on Friday April 6.
cforms contact form by delicious:days