We have 50 'admit-two' passes for the new Fox Searchlight film "(500) Days of Summer," starring Zoey Deschanel and Joseph Gordon-Levitt, and we want you to have them. The screening is Thursday, July 30, 7:30 pm at AMC Olathe Studio 30 (119th & I-35). Enter below and we will have a random drawing on Thursday, July 23 to determine the 50 winners. Your passes will be mailed to winners on that day.
This movie had its world premiere at the 2009 Sundance Film Festival, and also played at SXSW 2009. I heard a lot of great things about it, but schedules forced me to miss the screening. Now you can see it too before the movie opens in theaters.
Here's the synopsis from the studio: This is a story of boy meets girl, begins the wry, probing narrator of (500) DAYS OF SUMMER, and with that the film takes off at breakneck speed into a funny, true-to-life and unique dissection of the unruly and unpredictable year-and-a-half of one young man's no-holds-barred love affair.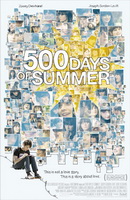 Remember to get there early, as these screenings are often overbooked. Your pass will have more info on this. Good luck!
cforms contact form by delicious:days