Wanna see
THE GIRL WITH THE DRAGON TATTOO
Monday, December 19 at 7:30 PM at AMC Studio 30?
THE GIRL WITH THE DRAGON TATTOO is the first film in Columbia Pictures' three-picture adaptation of Stieg Larsson's literary blockbuster The Millennium Trilogy. Directed by David Fincher and starring Daniel Craig and Rooney Mara, the film is based on the first novel in the trilogy, which altogether have sold 50 million copies in 46 countries and become a worldwide phenomenon. The screenplay is by Steven Zaillian.
You know what to do. Enter below.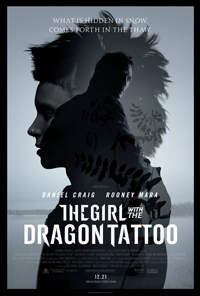 No more submissions accepted at this time.