We have only 25 passes to give away for an advance screening of the new action movie "Underworld: Rise of the Lycans," starring Michael Sheen, Bill Nighy, Rhona Mitra, Shane Brolly, and Kevin Grevioux. The screening is Thursday, January 22, 7:30 PM at the AMC Town Center (119th & Nall).
[youtube A3ZhjsufqxU nolink]
Here's the film's logline: The prequel story traces the origins of the centuries-old blood feud between the aristocratic vampires and their onetime slaves, the Lycans. In the Dark Ages, a young Lycan named Lucian (Sheen) emerges as a powerful leader who rallies the werewolves to rise up against Viktor (Nighy), the cruel vampire king who has enslaved them. Lucian is joined by his secret lover, Sonja (Mitra), in his battle against the Vampire army and his struggle for Lycan freedom.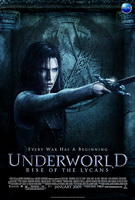 We'll have a random drawing Monday morning Jan. 19 to pick 25 winners who'll get 2 'admit-two' passes to this screening. Any duplicate emails or addresses will be disqualified, so please only enter once! If you win, you will receive your passes in the mail at the address you enter below, so make sure it is correct!
cforms contact form by delicious:days