We've got a "Transformers: Revenge of the Fallen" prize pack and we want you to have it! This consists of a Xbox videogame and CD soundtrack, details below: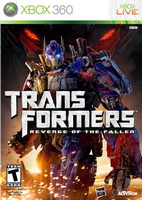 VIDEOGAME
The official video game of "Transformers: Revenge of the Fallen":
Activision – suggested retail is $59.99
For the Activision Video Games
(for XBOX 360 and XBOX Live)
www.transformersgame.com
Game © 2009 Activision Publishing, Inc. Activision is a registered trademark of Activision Publishing, Inc.
All rights reserved. The ratings icon is a trademark of the Entertainment Software Association.
Click on either image for the full-rez version.
Approximate Retail Value – $18.98
Available on Warner Bros. Records
Soundtrack features the hit "New Divide" by Linkin Park and music from Green Day, Nickelback, Taking Back Sunday, The Fray and more
Did I mention that Cheap Trick is also on the soundtrack with a badass theme song?
All you have to do is enter your name, address, and email below and we'll pick one random winner on Monday, June 29 at random.
Open to residents of the U.S. 16+. Good luck!
cforms contact form by delicious:days