Want to see an advance screening of Zack Snyder's long-awaited movie adaptation of the best graphic novel ever printed? Yeah? I thought so. Your pals here at Scene-Stealers have 20 'admit-two' passes for the advance screening in Kansas City on Tuesday, March 3 at the AMC Olathe Studio 30 (I-35 & 119th). The screening starts at 7:30 pm and we want you to be there! All you have to do is follow the instructions below.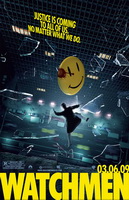 HOW TO PLAY: The Scavenger Hunt will require the use of our site search engine, located in the upper right hand portion of each page.
When you see a clue, type the answer into the search engine.
One of the pages that comes up will have your next clue on it.
It may not be the first or second page you click on, so make sure you look at them all.
The clues will have a graphic of the Doomsday Clock next to them, and are found in the bottom right-hand corner of the correct pages only.
Type your answer to the question in the search engine and move on to the correct next page.
There are 10 clues before you get to the final answer.
Once you have the final answer,  fill out the form on the last page with all your information, adding your FINAL CORRECT ANSWER.
All entries with the correct answer will be entered to win one of 20 passes. The drawing will be Friday morning Feb. 27, 2009. The winners will be notified by email and receive instructions on how to print off their passes online. If you are one of the lucky 20 winners, please remember to get there early. These screenings are often overbooked. Your pass will have more details on this.
Hint: All answers must be spelled correctly.
Hint: Type all answers in the search engine in lowercase only.
Hint: If you see a page you've already been to after searching, you haven't looked at them all yet.
Hint: Your first clue is at the bottom right hand side of this page.
 There's only one character in the "Watchmen" universe who has superpowers. His name is Dr. _____________.
[youtube E4blSrZvPhU nolink]