Terrence Malick's amazing new movie "The Tree of Life" has been rolling out slowly across the country, and it finally comes to Kansas City on Friday, June 17 at the Tivoli Cinemas in Westport (4050 Pennsylvania, KC, MO).
There aren't any advance screenings, but we have some admit-two passes to see the movie during its Kansas City engagement at the Tivoli!
We also have 5 mini-posters from the movie to give away!
Synopsis: From Terrence Malick, the acclaimed director of such classic films as Badlands, Days of Heaven and The Thin Red Line, The Tree of Life is the impressionistic story of a Midwestern family in the 1950s. The film follows the life journey of the eldest son, Jack, through the innocence of childhood to his disillusioned adult years as he tries to reconcile a complicated relationship with his father (Brad Pitt). Jack (played as an adult by Sean Penn) finds himself a lost soul in the modern world, seeking answers to the origins and meaning of life while questioning the existence of faith. Through Malick's signature imagery, we see how both brute nature and spiritual grace shape not only our lives as individuals and families, but all life.
Here's all you have to do: Fill out the form below and tell us your favorite Malick film and why. Winners will be picked randomly on Monday, June 13 and passes/posters will be mailed out.
If you're a big Malick nut like I am, you'll jump on this thing ASAP. I'm already bursting at the seams to review it, so keep an eye out for that on opening day as well!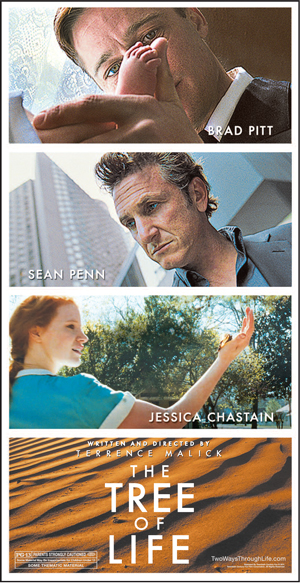 Good luck!
cforms contact form by delicious:days