It's time for more free advance ticket giveaways from your pals at Scene-Stealers. We have 50 admit-two passes to give away for the Kansas City advance screening of the horror-thriller "The Strangers." The screening is Tuesday, May 27 at AMC BarryWoods 24 (8101 Roanridge Road, Kansas City, MO, 64151) at 7:30pm.
[brightcove 1519678275 nolink]
Here's the synopsis from the movie studio:
Lock the doors. Assume you're safe. The horrifying events that took place in the Hoyt family's vacation home at 1801 Clark Road on February 11, 2005, are still not entirely known.Champagne. Rose petals. Candlelight. It was supposed to be a night of celebration for Kristen McKay (Liv Tyler) and James Hoyt (Scott Speedman). But after leaving a friend's wedding reception and returning to the house, everything had collapsed for the happy couple. Then came a 4 a.m. knock on the door and a haunting voice. Is Tamara here?Writer/director Bryan Bertino explores our most universal fears in The Strangers, a terrifying suspense thriller about a couple whose remote getaway becomes a place of terror when masked strangers invade. The confrontation forces Kristen and James to go far beyond what they thought themselves capable of if they hope to survive.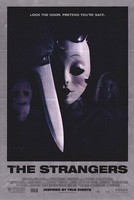 I do like the cool, retro-horror movie poster. The first 50 people to fill out the form below will get a pass mailed to them! If you are one of the lucky 50 winners, please remember to get there early. Although I wouldn't expect it on this movie, these screenings are often overbooked. Your pass will have more details on this.
This online giveaway is SOLD OUT. Go to The Record Bar Friday night May 23 to win passes to this movie. Eric's band is playing and we'll be giving away up to 15 more pairs of tickets! See you there!
No more submissions accepted at this time.