Your pals at Scene-Stealers have 20 admit-two passes to see "Terminator Salvation," the fourth movie in the sci-fi franchise, and we want to give them to you. The advance screening is on Monday May 18, 2009 at the AMC Olathe Studio 30 (119th & I-35) at 7:30pm. All you need to do is fill out the form below and peruse our Christian Bale Valentine's Day e-cards inspired by the star's infamous rant on the set of "Terminator Salvation" while you wait for our random drawing.
Synopsis: In the highly anticipated new installment of The Terminator film franchise, set in post-apocalyptic 2018, Christian Bale stars as John Connor, the man fated to lead the human resistance against Skynet and its army of Terminators. But the future Connor was raised to believe in is altered in part by the appearance of Marcus Wright (Sam Worthington), a stranger whose last memory is of being on death row. Connor must decide whether Marcus has been sent from the future, or rescued from the past. As Skynet prepares its final onslaught, Connor and Marcus both embark on an odyssey that takes them into the heart of Skynet's operations, where they uncover the terrible secret behind the possible annihilation of mankind.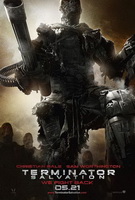 As if the alternate reality "Star Trek" stuff wasn't hard enough to swallow, there's more altered reality in this movie, plus an appearance by Anton Yelchin (who also played Chekov in "Star Trek") as Kyle Reese. My brain hurts.
We'll have our drawing on Friday, May 15 and there will be 20 people picked at random. Each will receive an email with instructions on how to print off their passes for next Monday night. Good luck!
cforms contact form by delicious:days