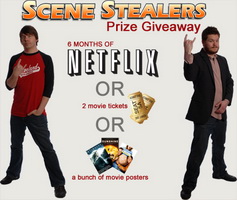 Behold the wonder of the very first Scene-Stealers contest! From Sept. 10th through Sept. 30th, we're giving you, our dear internet pals, the chance to win some sweet schwag courtesy of yours truly, Eric & J.D. What can you win?
How about a mad grab bag of posters from all the major releases this year?
How about 2 movie passes to the movie of your choice?
How about this: a 6 month gift subscription to Netflix, allowing you to have 3 DVDs out at a time, plus 17 hours of on-demand online movie watching?

Here's how this works:
Simply enter in your e-mail* and contact info in the handy little form you see on the page, and you're totally eligible (as long as you don't, you know, enter your e-mail in a thousand times). After the 30th, we'll pull three names from the list using our state-of-the-art 'Joshua' computer and the world will have three more winners.
Only one valid e-mail per person. Continental U.S. Residents only.(Sorry rest of the world.)
What are you waiting for?
*Just so you know, we so won't sell your e-mail address to Globochem or anything. Nor will we send you BFF collages in the mail. More than once.
No more submissions accepted at this time.