This giveaway should be fun. We're giving everyone advance notice on this because it involves shooting video!
We have 50 'admit-two' passes to see the Kansas City advance screening of J.J. Abrams' reboot of "Star Trek" in glorious IMAX on May 6, 2009 at AMC Barrywoods (8101 Roanridge Rd.) at 7:30 pm. We also have one very cool "Star Trek" prize pack (including prizes to be named at a later date!). But we're doing things a little different this time at the request of Paramount Pictures, who know that we have the coolest movie freaks on the Internet.
[vimeo 3619174 nolink]
We want you to make a video.
It can be anything you want, as long as it has something to do with "Star Trek."
Upload it to any user-based video site and send me the link, your name, and your address at eric@scene-stealers.com.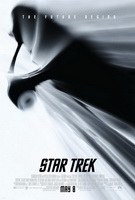 Some ideas to get you started:
- Recreate a favorite scene from any incarnation of the TV show or movies using yourself, friends, animation, action figures, whatever!
- Do an impression of any familiar "Star Trek" character.
- Speak Klingon.
- Describe why you deserve the prize/tickets more than anyone else.
- Create a mash-up using clips. You DON'T have to appear on camera
Rules:
- Just so we know that you've made this video specifically for this contest, make sure that Scene-Stealers is mentioned either out loud or onscreen in your entry and also in your text description of the video.
- Videos cannot be more than 5 minutes in length.
- Let's keep the raunchiness to a minimum. We're talking PG-13 here, just like the movie.
- Remember: "Star Trek" and "Scene-Stealers" in one video!
I will pick the winner personally. I'm looking for a video with that intangible "Star Trekiness." Quality doesn't matter. Use your cell phone (or someone else's) if that's all you got! Funny is always good too. The best videos will be posted on the site!
The winner (whether he/she is from Kansas City or not) will win the "Star Trek" prize pack. If the winner is local and can attend the KC screening on 5/6 at AMC Barrywoods, they get VIP passes to the screening as well. We have VIP reserved seats for 2 other runners up. The other 47 winners will be chosen at random, starting with the people who made videos.
You may enter with the form below if you're not going to make a video and hope that less than 50 other "Star Trek" fans make them.
All entries must be received by Thurs. April 30 at noon CST. We'll post winners on Friday May 1.
Good luck. Live long and prosper!
cforms contact form by delicious:days