For our Kansas City-based sitegoers, here's another free advance screening we're offering you free tickets to. It's Thursday, April 10 at 7:30 pm. Check out the trailer below for "Smart People," starring Ellen Page ("Juno"), Thomas Haden Church ("Sideways"), Dennis Quaid, and Sarah Jessica Parker:
[brightcove 1393808281 nolink]
From the Sundance Film Festival:
"Smart People" is the darkly comic story of Lawrence Wetherhold (Dennis Quaid), a widowed, acerbic, and self-absorbed literature professor who has alienated his son and turned his daughter into an overachieving, friendless teen. He falls for Janet (Sarah Jessica Parker), one of his former students; at the same time, his ne'er-do-well brother (played by Thomas Haden Church) unexpectedly shows up at his door, low on cash and needing a place to stay. Suddenly, Lawrence's well-thought-out, though not well-managed, life comes crashing down on him. All the intelligence in the world can't unstick his life.
A seasoned commercial director, Noam Murro is no stranger behind a camera, but Smart People surely signals the beginning of an accomplished new career in feature filmmaking. The script by Mark Jude Poirier is razor sharp, and the obvious rapport among the ensemble cast members makes for a healthy dose of well-conceived humor. Mixing comedy genres, including just a hint of modern slapstick, Murro proves he has an assured grasp on what any good adult comedy needs—an expert balance of pace and pathos. "Smart People" traces the amusing series of events that trigger, in one man, the need to change and reconnect with his family before he can take the first step forward.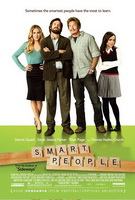 Just fill out the form below and an admit-two  pass for "Smart People" will get mailed to your house! It's that easy. Remember to show up early because these screenings are overbooked to ensure a full house (although they aren't always full). It's Thursday, April 10 at 7:30 pm at the AMC Olathe Studio 30 (119th and I-35). This screening is SOLD OUT.
No more submissions accepted at this time.