If you live in the Kansas City area, here's your chance to hit another FREE ADVANCE SCREENING courtesy of your pals at Scene-Stealers. Check out the trailer for the Martin Scorsese-directed IMAX film "Shine A Light," starring the Rolling Stones, below:
[youtube 276YvPgwGQA nolink]
You may remember that Scorsese is the man behind what is widely regarded as the best concert film of all time, 1978′s "The Last Waltz," starring The Band, Bob Dylan, Neil Young, Joni Mitchell, and Van Morrison. This time, the master set his sights on the Stones during a rare 2-day small-venue stop on a tour filled almost exclusively with stadium gigs. The movie was filmed at the more intimate setting of the Beacon Theater in the Fall of 2006, and also features rarely seen archival footage and current behind-the-scenes footage and interviews shot using additional Hi Def, DV Cam, 16mm, and 8mm cameras. Even though the Maysles brothers' "Gimme Shelter" from 1970 is probably the definitive Stones movie, I'm more than a little curious to see what Scorsese and a crack team of cinematographers such as Robert Elswit (who just won an Oscar for "There Will Be Blood"),  Emmanuel Lubezki ("Children of Men"), and Ellen Kuras ("Eternal Sunshine of the Spotless Mind") have come up with in the loud, large IMAX format.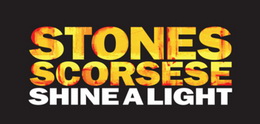 Your favorite rock 'n roll movie site (that's us!) is giving away free passes to see this event before the movie opens intheaters. The free screening will be on Tuesday, April 1 (Yes, I know what day it is, but we promise this is no joke. You won't get there and find "Hannah Montana." You'll just have to trust us.) and will be on the IMAX screen at AMC Olathe Studio 30 (119th & I-35) at 8:30 pm. Just fill out the stuff below, and get a pass for two in the mail. It's just that simple! Don't forget to get there early, as some screenings are overbooked!
No more submissions accepted at this time.