We have a very cool treat for all of our loyal Scene-Stealers sitegoers who live in the Kansas City area. I've just received word that we are getting tons of 'admit-two' passes to a private, Scene-Stealers only advance screening of the new comedy starring Paul Rudd ("Knocked Up") and Jason Segel ("Forgetting Sarah Marshall"). It's written and directed by John Hamburg, who also directed episodes of Judd Apatow's "Undeclared," and it doesn't even open until March 20.
The screening is soon– NEXT WEEK–Thursday, Feb. 26 at 7:30pm at The Legends 14 Theater (1841 Village West Parkway, Kansas City, KS).
[youtube Y6K0h8E6bCI&fmt=6 nolink]
To win a pass, just fill out the form below, and your pass will be mailed to you just in the nick of time to attend the screening! If you are able to fill out the form (meaning it's not sold out first), consider yourself a winner and your pass will be in the mail.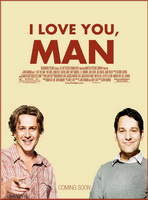 Thanks again for all your loyal support. The website is doing great, we are hard at work on a redesign, and we can't wait to have all of you Beta-test it out!
Remember to get there early, it will probably be overbooked to ensure a full house … and we'll see you there!
cforms contact form by delicious:days