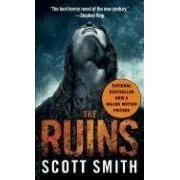 If you live anywhere in the United States, here is your chance to win a prize package for the new horror movie "The Ruins." Just enter your name, address, and email below and we will pick eight lucky winners at random to receive one of the eight prize packages.
Each prize pack includes:
Either a book (or audio book) of Scott Smith's novel "The Ruins." The movie is based on this terrifying book, of which Steven King said, "It's the trappings of horror and suspense that will make the book a best seller, but its claim to literature lies in its unflinching naturalism."
A mini-poster for the film
Some stickers
A temporary tattoo
Entries must be received by Monday April 14. The contest is over. Thanks for entering!
[brightcove 1414319277 nolink]
No more submissions accepted at this time.