If you live in the Kansas City area, here's your chance to hit another FREE ADVANCE SCREENING courtesy of your pals at Scene-Stealers. Check out the trailer for the new horror flick "The Ruins" below.
[youtube ZKcCXyi7Pjs nolink]
The screening will take place on Thursday, April 3rd at 10pm.
This very well could be your standard run-of-the-mill horror teen outing, but a couple of things intrigue me.
1. It's based on the best-seller by Scott Smith, the novelist who wrote "A Simple Plan." That movie was amazing, and, although I haven't read the book, Sam Raimi's film seemed to have a level of character development that many horror movies don't have. Smith also wrote the screenplay for this, so it could be good…
2. Produced by Ben Stiller? Huh?
Here's the synopsis:
Based on the terrifying best-seller by Scott Smith, "The Ruins" follows a group of friends who become entangled in a brutal struggle for survival after visiting a remote archaeological dig in the Mexican jungle – where they discover something deadly living among the ruins. "The Ruins" stars Jonathan Tucker ("The Black Donnellys"), Jena Malone ("Pride and Prejudice"), Shawn Ashmore ("X-Men: The Last Stand"), Laura Ramsey ("She's the Man") and Joe Anderson ("Across the Universe"). The film is directed by Carter Smith from a screenplay by Scott B. Smith.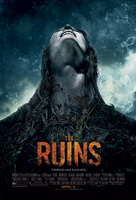 Your favorite movie site (that's us!) is giving away free passes to see this event before the movie opens in theaters. The free screening will be on Thursday, April 3. and will be on the at the Olathe Studio 30 (119th & I-35) at 10pm. The screening is SOLD OUT- stay tuned for more giveaways! Just fill out the stuff below, and get a pass for two in the mail. It's just that simple! Don't forget to get there early, as some screenings are overbooked!
No more submissions accepted at this time.