Michael Bay (the man behind "Armageddon" and "Transformers") has produced a brand-new remake of the original "Friday the 13th" and Scene-Stealers wants to give you free advance passes to see the movie before it opens on Friday Feb. 13. Why? Because we love you.
We have 50 'admit-two' passes to give away for the screening taking place on Monday Feb. 9th at 9:30pm at the Cinemark Palace on the Plaza (500 Nichols Rd. Kansas City, MO 64112).
[youtube xIn2HsOIph0 nolink]
All you have to do is tell us which "Friday the 13th" movie is your favorite or least favorite and why!
Be as funny and personal as you like because only the 50 best entries will win tickets to the screening. For this giveaway, we'll allow you to enter more than once– if you'd like to tell us about multiple "Friday the 13th" experiences. It will increase your chance of winning, but each person will only win one 'admit-two' pass! The best entries will also be published online, so entering the contest is your permission to use your name and your text!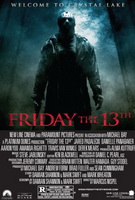 Winners have been picked and all have been emailed with instructions to get their passes online! Read some of the winning entries here.