Wanna go see what looks to be the weirdest Adam Sandler movie since "Little Nicky"? Well, we are giving away 50 'admit-two' passes to the Kansas City-area advance screening of "You Don't Mess With the Zohan" on Thursday, June 5 at 7:30 pm. This screening will be at The Legends 14 (1841 Village West Parkway, Kansas City, KS). Just be one of the first 50 to fill out the form below and you're good to go!
In You Don't Mess With the Zohan, a comedy from screenwriters Adam Sandler, Robert Smigel (Triumph the Insult Comic Dog), and Judd Apatow (Knocked Up), Sandler stars as Zohan, an Israeli commando who fakes his own death in order to pursue his dream: becoming a hairstylist in New York. Smigel and Apatow are proven comic geniuses, so we'll see…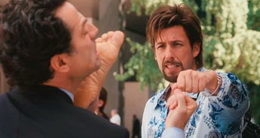 Just fill out the form below and an 'admit-two' pass for "You Don't Mess With the Zohan" will get mailed to your house! It's that easy. Remember to show up early because these screenings are overbooked to ensure a full house (although they aren't always full). And, PLEASE don't fill out the form unless you actually plan on going. As long as our readers actually attend the screenings that we give away tickets for, we'll continue to get these opportunities for everyone.
The screening is now SOLD OUT!
This actor played Harvey 'Two-Face' Dent in "Batman Forever."