It seems like Shia LaBeouf is Steven Spielberg's new boy now. After headlining producer Spielberg's "Disturbia" and starring as Indy's kid in this summer's "Indiana Jones" sequel, LaBeouf is back starring n another Spielberg-produced, D.J. Caruso-directed thriller (Caruso also directed "Disturbia."). This one is called "Eagle Eye" and it stems from an idea Spielberg had way back in 1996. Also, if you haven't seen a trailer for it then you haven't been anywhere near a TV in the past two months.
[youtube 4irce-kalhk nolink]
Well, your pals at Scene-Stealers have 50 'admit-two' passes to an advance screening of the film at Phoenix Theaters Legends 14 (1841 Village West Parkway, Kansas City, KS 66111). It will take place on Tuesday, Sept. 23 at 7:30pm.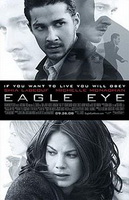 If you are able to fill out the form below, you are one of the first 50, and the tickets will be mailed to your house. Please do not sign up more than once, and don't try to be all tricky with multiple email accounts and addresses. If you know someone else that would want to go, point them right here instead of doing their dirty work for them.
Also, if the screening sells out, be sure and keep checking back at this post. Often times, Scene-Stealers sitegoers will let you know if they aren't using their tickets! If you are one of the lucky 50 winners, please remember to get there early. These screenings are often overbooked. Your pass will have more details on this. Good luck!
4 left!
OK, those went quick, but never fear– we will be giving away tickets to another "Eagle Eye" screening soon, so keep checking back!
No more submissions accepted at this time.