If you are as big a fan of the U.K. version of "The Office" and HBO's "Extras" as I am, then you already know who Ricky Gervais is. Since the self-imposed demise of "Extras" after two seasons, Gervais has been hard at work on breaking into the movies. His first starring role is in the romantic/supernatural dramedy "Ghost Town," opposite and Tea Leoni. Whatever Gervais is, he's not a straightforward leading man, so it will be interesting to see how this movie embraces or skirts the fact that its star is not exactly Matthew McConaughey. Check out the trailer below:
[youtube 5CLx7XiOO_Y]
Luckily for you, we're giving away a whopping 100 free 'admit-two' passes to see Gervais in "Ghost Town" before the rest of the country gets to see it. The screening is Tuesday, Sept. 9 at 8:30pm at the Screenland Theater (1656 Washington St., Kansas City, MO, 64108). This is now SOLD OUT! Thanks!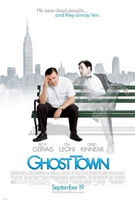 The first 100 people to sign up below will get an 'admit-two' pass mailed to their home address. Please do not sign up more than once, and don't try to be all tricky with multiple email accounts and addresses. If you know someone else that would want to go, point them right here instead of doing their dirty work for them. Also, if the screening sells out, be sure and keep checking back at this post. Often times, Scene-Stealers sitegoers will let you know if they aren't using their tickets! If you are one of the lucky 100 winners, please remember to get there early. These screenings are often overbooked. Your pass will have more details on this. Good luck!
No more submissions accepted at this time.