Embrace your inner nerd! Here's an opportunity for everyone in the U.S. to win an autographed poster and our Kansas City-based sitegoers to win free movie passes.
We have one "Fanboys" poster autographed by three stars of the picture:
Chris Marquette
Sam Huntington
Dan Fogler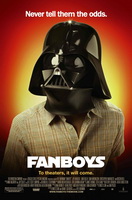 We also have 10 run-of-engagement passes to see "Fanboys"at any AMC Theatre in the Kansas City area. These passes are good Mon.-Thurs. while the movie is playing, which is NOW!
We'll draw 10 Kansas City-based winners at random on Wed. March 4 at 3pm CST. That gives you KC people one full day.
For everyone else, we'll draw a winner for the autographed poster Wed. March 11.
Open to residents of the U.S. 13+.
Good luck!