[brightcove 1348327074 nolink]
If you live anywhere in the United States, here is your chance to win one of five DVDs we are giving away of last year's Mike Nichols/Aaron Sorkin satire "Charlie Wilson's War," starring Tom Hanks, Julia Roberts, and a wickedly funny, Oscar-nominated Philip Seymour Hoffman. The DVD is released on Tuesday, April 22, and that is the deadline to enter your name, address, and email. We will pick five lucky winners at random to receive a DVD. Don't forget to keep checking our giveaway section for more great stuff and good luck!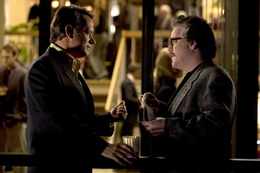 All entries must be received by Tuesday, April 22. Please fill out the form below.
Contest is over. Thanks for playing.
cforms contact form by delicious:days