TEXAS CHAINSAW 3D opens in theaters this weekend January 4, and we have a prize pack that includes run-of-engagement passes to see the movie in Kansas City and much more!
The prize pack contains:
2 movie passes to see TEXAS CHAINSAW 3D in Kansas City
A TEXAS CHAINSAW 3D t-shirt and poster
A horror DVD pack featuring SAW THE FINAL CHAPTER, MY BLOODY VALENTINE, and SCREAM
All you have to do to win is sign up below and we will have a random drawing to determine the winners!
Here's what the TEXAS CHAINSAW 3D t-shirt and poster look like: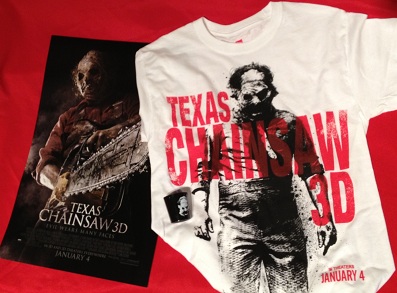 Good luck!
No more submissions accepted at this time.