The funniest comedy of the year so far is out on DVD on September 20, and we are giving away 5 copies of it to celebrate the release date.
If you want to win a copy of BRIDESMAIDS on DVD, simply upload a copy of the ugliest bridesmaids dress you've had to wear to a wedding and send us the link!
The Top 5 ugliest dresses will win a copy of the movie on DVD!
You can upload the photo to whatever site you want as long as you put the link in the form below along with the rest of your info. (One easy upload image site is Imgur.com.)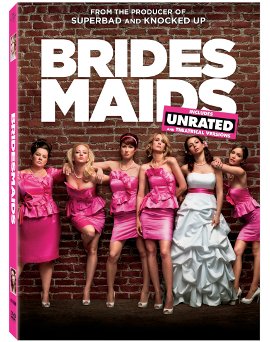 SYNOPSIS: "Gut-bustingly funny!"(Owen Gleiberman, Entertainment Weekly) From the producer of Superbad, Knocked Up and The 40-Year-Old Virgin comes the breakout comedy critics are calling "brazenly hysterical!" (Alynda Wheat, People). Thirty-something Annie (Kristen Wiig) has hit a rough patch but finds her life turned completely upside down when she takes on the Maid of Honor role in her best friend Lillian's (Maya Rudolph) wedding. In way over her head but determined to succeed, Annie leads a hilarious hodgepodge of bridesmaids (Rose Byrne, Melissa McCarthy, Wendi McLendon-Covey and Ellie Kemper) on a wild ride down the road to the big event.
ON BLU-RAY, DVD AND DIGITAL DOWNLOAD SEPTEMBER 20.
Rating: R
Drawing on Friday Sept. 16.
Good luck!
cforms contact form by delicious:days