We have advance passes to see the new comedy HALL PASS, starring Jason Sudeikis and Owen Wilson, and we want you to have them! The screening is Tuesday, February 22 at AMC Olathe Studio 30 at 7:30pm.
Here's the twist: We want you to watch the video AT THE BOTTOM OF THE PAGE and answer some questions about it in order to win. Those with the right answer will be put into a random drawing on Friday Feb. 18 and the winners will be chosen from there.
Best buds Rick and Fred (Owen Wilson and Jason Sudeikis) have both been married for many years. When they begin to show signs of restlessness at home, their wives (Jenna Fischer and Christina Applegate) take a bold approach to revitalize their marriages: they grant the guys a "hall pass," one week of freedom to do whatever they want. No questions asked.
At first, it sounds like a dream come true for Rick and Fred, but they quickly discover that their expectations of the single life—and themselves—are completely and hilariously out of sync with reality.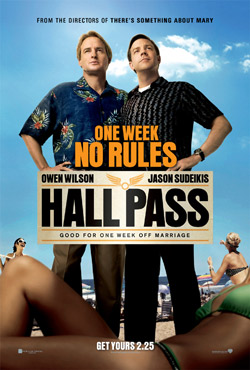 To enter, watch this interview Eric and J.D. did with Jason a couple of years ago, fill out the form below, and answer these 3 questions in the text box provided:
1. How many questions did Jason get right in the rock n' roll quiz?
2. If Eric was choking in a restaurant and George Clooney was there, would he expect the actor to jump in and save him?
3. Multiple choice: Midway through the interview, Jason says he can't tell if Eric and J.D. are joking. Are they? How many people in this interview are "in on the joke"? 0, 1, 2, or 3?
Answer below and good luck!
cforms contact form by delicious:days