Despite the fact that hundreds of you played our "Dark Knight" Scavenger Hunt for free advance passes, we only had 20 seats to give away and many sitegoers have expressed their disappointment. For everyone that didn't win, here is your chance to redeem yourself and win something that will last for a lifetime rather than just two hours in a darkened theater. Your pals at Scene-Stealers are giving away the very poster that you see in the photograph below: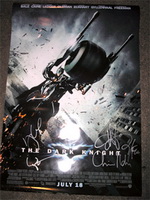 This "Dark Knight" theatrical release poster comes to us courtesy Warner Bros. Pictures and is autographed by:
Christian Bale
Maggie Gyllenhaal
Aaron Eckhart
Gary Oldman
and director Christopher Nolan
Just fill out your name, address, and email in the form below, and you will be registered to win this awesome piece of movie memorabilia from the most anticipated movie of the summer. One winner will be chosen at random, and all entries must be received by July 31. This contest applies to U.S. residents only. Good luck!
No more submissions accepted at this time.