Alright, we've been doing a lot of random drawings lately, so we're going to reward those quick draw McGraws who either have us on Google Reader or RSS.
The FIRST 50 people to fill out the form below will win advance passes to THE INVENTION OF LYING on Wednesday, September 30 at 8 PM at Woodruff Auditorium in the KU Union in Lawrence, KS.
Here's a synopsis from the studio:
From Ricky Gervais, the award-winning creator and star of the original BBC series "The Office" and HBO's "Extras," comes the new romantic comedy "The Invention of Lying." "The Invention of Lying" takes place in an alternate reality in which lying—even the concept of a lie—does not exist. Everyone—from politicians to advertisers to the man and woman on the street—speaks the truth and nothing but the truth with no thought of the consequences. But when a down-on-his-luck loser named Mark Bellison (Gervais) suddenly develops the ability to lie, he finds that dishonesty has its rewards. In a world where every word is assumed to be the absolute truth, Mark easily lies his way to fame and fortune. But lies have a way of spreading, and Mark begins to realize that things are getting a little out of control when some of his tallest tales are being taken as, well, gospel. With the entire world now hanging on his every word, there is only one thing Mark has not been able to lie his way into: the heart of the woman he loves.
Be one of the first 50 to sign up below and you'll get an email from me with instructions to print out your pass.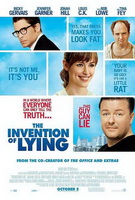 Do us a favor and please don't sign up unless you know you can go. The more Scene-Stealers that show up, the more passes we get in the future to give to you. See how that works?
Get there early if you win…
cheers,
Eric
Good luck!
cforms contact form by delicious:days