Alright, we've been doing a lot of random drawings lately, so we're going to reward those quick draw McGraws who either have us on Google Reader or RSS.
The FIRST 50 people to fill out the form below will win advance passes to PANDORUM on Thursday, September 24 at 8:30 PM at AMC Barrywoods in North Kansas City.
Here's a synopsis from the studio:
In PANDORUM, Dennis Quaid (Vantage Point, The Express) and Ben Foster (3:10 to Yuma, Alpha Dog) join Cam Gigandet (Never Back Down, Twilight), Cung Le (Tekken, Fighting), newcomer Antje Traue, and director Christian Alvart (Antibodies) to tell the terrifying story of two crew members stranded on a spacecraft who quickly – and horrifically – realize they are not alone.
Two astronauts awaken in a hyper-sleep chamber aboard a seemingly abandoned spacecraft. It's pitch black, they are disoriented, and the only sound is a low rumble and creak from the belly of the ship. They can't remember anything: Who are they? What is their mission?
With Lt. Payton (Quaid) staying behind to guide him via radio transmitter, Bower ventures deep into the ship and begins to uncover a terrifying reality. Slowly the spacecraft's shocking, deadly secrets are revealed…and the astronauts find their own survival is more important than they could ever have imagined.
Be one of the first 50 to sign up below and you'll get an admit-two pass in the mail ASAP.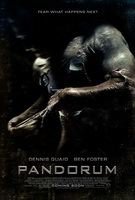 Do us a favor and please don't sign up unless you know you can go. The more Scene-Stealers that show up, the more passes we get in the future to give to you. See how that works?
BTW, this movie is rated R for strong Horror Violence and Language! Get there early if you win…
cheers,
Eric
Good luck!
cforms contact form by delicious:days