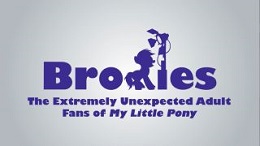 If you know what a "brony" is, then you probably already know about these Kansas City FilmFest 2013 events.
You see, "bronies" are technologically savvy predominantly male fans of My Little Pony, a TV show that is aimed at little girls. The thing is — a 2010 reboot of the TV property (called Friendship is Magic) by a woman named Lauren Faust was way better than it had any right to be. The new show ended up connecting with a far wider demographic than intended.
When a documentary about the burgeoning brony subculture was proposed, the producers of the film went to Kickstarter. Bronies: The Extremely Unexpected Adult Fans of My Little Pony leveraged its dedicated followers to raise a whopping $322,022 in pledges, making it the second-highest amount raised for a film on Kickstarter since the site's inception.
The Social Media Club of Kansas City is co-sponsoring a screening of Bronies: The Extremely Unexpected Adult Fans of My Little Pony on Thursday, April 11 at 7:15pm at the Alamo Drafthouse Mainstreet. Immediately following the movie, I'll be hosting a Q&A with producer Michael Brockhoff and executive producer John de Lancie, who is also the voice of Discord, the cartoon's "wily villain" (as well as Q from Star Trek: The Next Generation and hordes of other character-actor roles).
In advance of the screening and the Q&A, I wanted to get a feel for Michael Brockhoff's general outlook on social media fundraising and asked him some quick questions about how they raised five times their original goal.
Eric: You've been producing TV and films since the mid-90s. Has raising the money for these kinds of projects fundamentally changed since then? How often do you consider the audience/built-in community before committing to production?
Michael Brockhoff: The introduction of crowdfunding websites has created a unique opportunity for the general public to greenlight projects which may have never before seen the light of day. In the past you would have had to convince an entertainment corporation or a few wealthy individuals to fund your project. That's not always an easy thing, especially if the subject of your project is not well known.
Eric: What was the genesis of the movie? How did you find out about bronies?
Michael: I was having dinner with John de Lancie whom I've known for years. He was telling me about voicing My Little Pony and the tremendous response he had from adult men who call themselves bronies (bros who like ponies). He also told me about an upcoming convention that would be attended by 4,000 bronies. I was fascinated and knew we needed to create a documentary.
Eric: The high number of creative bronies means that there are lots of fan-made remixes, animations, and other things available on the Internet. How did you connect with these passionate fans to let them know about the movie — and how did they respond?
Michael: The great thing about the brony community is how involved they are. We put the world out through community websites and interviews with community media and the response was overwhelming. Initially we were looking for $60,000 to fund a few days of filming at the BronyCon convention. We ended up raising over $322,000 and filming all over the world.
Eric: One reason bronies relate to the show is that the ponies face these titanic challenges that people everywhere can relate to (difficulties fitting in, discrimination, etc.). Did you feel that way trying to raise support/funds for the documentary?
Michael: One of the lessons in the show that bronies take to heart is coming together to help your friends accomplish big goals. That is exactly what happened and we are happy to have achieved our goal of creating a film that helps the general public understand bronies and their love of the show.
Here's info on all Bronies events related to Kansas City FilmFest 2013:
Dinner With Discord, featuring John De Lancie – Thursday, April 11 – 5:45-7:15pm
Bronies Screening – Thursday, April 11 – 7:15 pm , featuring Q&A with John De Lancie and Michael Brockhoff
Bronies Screening, featuring Q&A with Michael Brockhoff and Lauren Faust – Saturday, April 13 – 8 pm
Pony Pizza Party with Lauren Faust – Saturday April 13 – 6:30-8:00pm
Click here for more Kansas City FilmFest coverage!