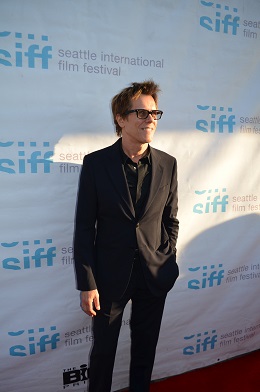 SEATTLE – The Seattle International Film Festival usually pulls off something akin to a small miracle in lining up a suitable guest for the Career Achievement Award evening. After all, S.I.F.F. traditionally runs at the same time as the Cannes Film Festival, which means most of Hollywood's notables are in France, not western Washington State.  Even so, the people that run Seattle's festival work hard to get a worthy guest in town to receive perhaps their most prestigious award, and this year, the recipient was indeed most worthy.
It has been more than twenty years since a group of students realized that Kevin Bacon was at the center of the entertainment universe, and developed the now-famous parlor game, "Six Degrees of Kevin Bacon." What began as a funny party trick to test the mental mettle of cinephiles morphed into a serious referendum on the actor himself, for Kevin Bacon has indeed worked with just about everyone worth knowing in Hollywood. As an actor, the man seems to have always cared more about the project than his stature in it, and as a result, Mr. Bacon has taken smaller, supporting roles in some of the most highly regarded movies of the last thirty years.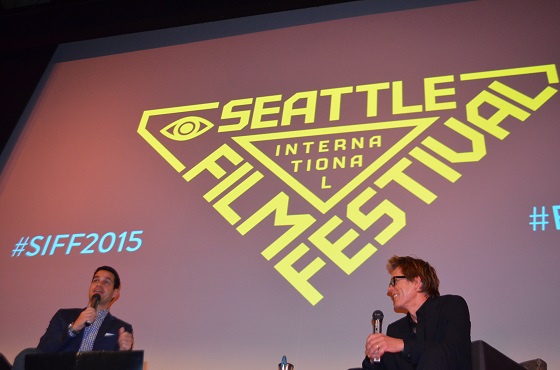 Indeed, for every starring vehicle the man has piloted, there have been at least three more where his turn in a supporting role earned him equal, if not greater, acclaim. Sure, the guy carried Footloose, Tremors, She's Having a Baby, Hollow Man, and Stir of Echoes, yet he turned in arguably better work in A River Wild, A Few Good Men, Apollo 13, Sleepers, Mystic River, and JFK. The living embodiment of the saying, "there's no such thing as small parts, just small actors," Kevin Bacon's prolific career is matched perhaps only by the unfailing quality standard that's he's brought to work, day-in and day-out, for the last 30+ years.
It is for this reason that many would probably agree that the SIFF Career Achievement Award has rarely been bestowed on a more worthy individual, for Kevin Bacon has had a magnificent career worthy of unanimous celebration. Already in town to promote a new film of his called Cop Car that is showing at SIFF, the climate seemed right for a well-deserved honoring. Mr. Bacon's time in Hollywood has been defined by humility, hard work, dedication to his craft, and a selfless commitment to every professional endeavor, big or small. As he worked the red carpet leading into Seattle's historic Egyptian Theater, all of this professionalism and good-natured courtesy was on display. It was here that Scene-Stealers caught up with the man, and got a few minutes of his time.
Scene-Stealers: What was it about Cop Car that drew you to the project? Was it the script, or the director, or…?
Kevin Bacon: Oh, it was a combination of those things. I saw a film that Jon [Watts] had directed that I thought was really, really super cool. It was a horror movie, a genre movie of different tones than Cop Car, which is more of a thriller than horror, and I thought he had a great vision. It was that in combination with a part that just looked like a lot of fun, a part that I could have a good time with. And a part that was not so much on the page, it was kind of what I like to call reading between the lines: like, literally between the lines of what the character says, you got to figure out who he's gonna to be.
S.S.: Excellent, yeah. Now, so, I gotta throw this at ya…it's been about twenty years of this whole Six Degrees of Kevin Bacon thing. If you could choose a colleague, someone else in the industry to sort of saddle this dubious honor with going forward, who would you choose?
K.B.: I'd probably give it to Spacey, Costner, or Kline, you know: one of the other Kevins.
S.S.: Ha! Yeah, that makes sense! Well, I appreciate you coming over to talk to me. Thanks!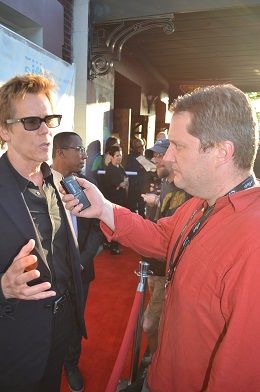 Those that came out for the festival's evening with Kevin Bacon were treated to quite a night, as the actor spent a nice chunk of time speaking about some of his most memorable roles. This included a brief discussion about shooting the famous town hall meeting scene in Footloose, where Bacon's character, Ren, gave an impassioned speech about the virtues of dance in front of the city fathers. Mr. Bacon confirmed an old rumor that he had broken out in hives the day before shooting the scene, and that it had taken a few calming words (and a Valium) from director Herb Ross to calm him down.
Kevin Bacon also talked about shooting JFK with Kevin Costner, and how the latter gentleman almost ruined a take during the Angola prison shoot because he broke eye contact to watch a crew member machete-hack a snake to death. Mr. Bacon went on to chat about working with John Hughes in She's Having a Baby, and how the director played music that would later be used in the film on-set, to give the actors an idea what would be playing over each scene. He also spoke about how this was in contrast to his experience on Footloose, where temp tracks were used during filming (largely because the music was still being written as the movie was shot).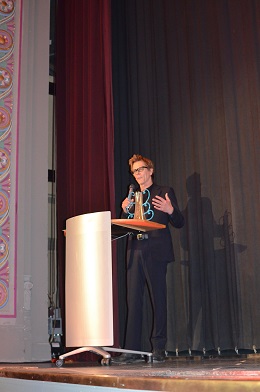 A good sport, Kevin Bacon seemed all too happy to discuss his experiences working on some of his most well-known films, and remarked on everything from curious dialogue over-dubbing for T.V. edits to his admiration for the cinematic institution that is Meryl Streep.
After he received his award, and chatted for a good half hour or so, the audience settled in for a screening of Cop Car: itself yet another strand woven to connect Mr. Bacon to a whole new generation of filmmakers.
It was a damn fine evening, and an appropriate celebration of one of the iron men of Hollywood.