Seattle, WA – The 40th Seattle International Film Festival brought with it a pair of profound and thrilling announcements: both of them unmistakably tied to the continued success and community support of the event. Generous donations from members of the film community funded the reopening of Capitol Hill's Egyptian Theater, long the site of the festival's many cherished events. The second announcement, met with no less enthusiasm, was that Queen Anne's Uptown Theater, itself rescued from demolition and disrepair by SIFF a few years ago, is now the property of the festival. Yep: the building, and more importantly, the land upon which it sits, belongs to SIFF, and will continue acting as the nexus of the festival for as long as this city will have it.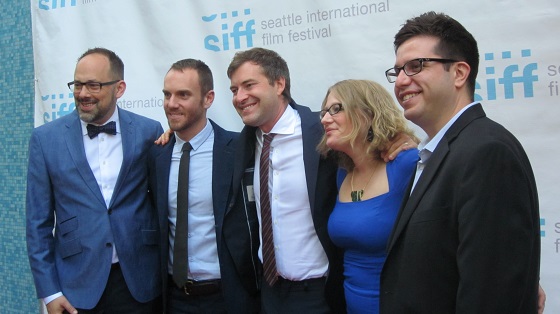 Again, this wouldn't have been possible without the unfailing support of SIFF members, SIFF-goers, and all the sweet, delicious dough kicked in by individuals with bankrolls both big and small. A man with his finances aligned in the former category even permitted the use of his theater for SIFF's closing night premiere, The One I Love, which played at Seattle's Cinerama. And while Paul Allen's movie house isn't officially affiliated with SIFF, which means the guy is effectively sponsoring his competition, this is the kind of magnanimous attitude and gesture that keeps SIFF clicking along year to year.
This city enjoys a good movie, and appreciates it when filmmakers and the actors they employ take the time to trek out to this small corner of the country to share the fruits of their labor. The reception Charlie McDowell received on Sunday night reflected this attitude. Mr. McDowell directed The One I Love, and took a moment on his way into the premiere to speak with Scene-Stealers.
Scene-Stealers: When did you come across Mr. Lader's script, and what struck you about it?
Charlie McDowell: Well, Justin [Lader] and I are writing partners, and we developed this together. It was a personal thing that we both brought to it, and he kind of went off and put it on the page. And we really liked the idea how there's this universal idea of how people start off in a relationship, and they give the best version of who they are, and how they're almost a heightened version of themselves, and we think that that's something that everyone kind of does in relationships. So we thought that was really interesting, and we just wanted to flip that on its head and do something weird with it.
S.S.: Yeah, totally. Well, thanks for taking a minute to talk to me. Have a great night!
Mark Duplass, star of the film, was also in attendance for SIFF's closing night, and answered a few questions for Scene-Stealers as well.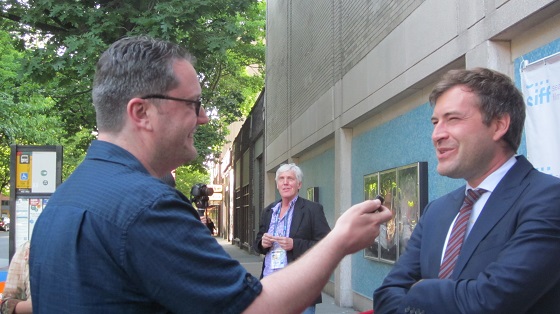 Scene-Stealers: So you were here at SIFF two years ago for the premiere of a film you were in called Your Sister's Sister. That was another movie where you played a character who went out to a cabin in the woods and had relationship mishaps. Are your characters ever gonna learn, or what?
Mark Duplass: Ha! Well, no, I don't think so. I think if characters start out knowing what's right for them, they're less interesting to watch for ninety minutes. And I'm kind of drawn to people who are trying to find their way, who are a little emotionally unaware, and in the case of this movie, go through something even a little more extreme than what we've done before.
SS: Excellent. So I was curious, about how long was this shoot? How long were you on-set?
M.D.: We shot for about three weeks on this movie. It was designed to be done quickly. And in a lot of ways this movie is really about trying to truly examine the nature of a married couple that's been together for a while. And what do you do when that attraction starts to fade? What do you do when you feel like the person you married is no longer the person that you're with? And that's interesting to me. Why do we put forth these sort of better versions of ourselves when we first start dating people that we know we can't live up to? Like, we talk about how we like to go to museums, but we don't really, we'd just rather stream Netflix. So why do we do that when we just end up disappointing people? And that's the core of what this movie is.
S.S.: Yeah, yeah. Definitely. Well, thanks for coming over to talk to me, and have fun tonight.
M.D.: Thanks!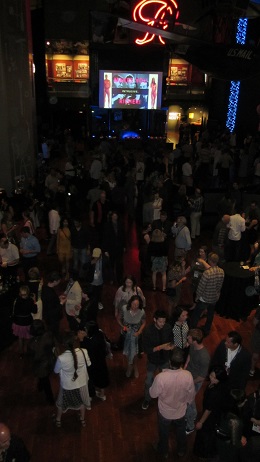 And with that, the talent moved from the red carpet and into the theater, where a packed house of over 800 attendees waited for the lights to go down and the curtain to pull back. A romantic comedy with something of a sci-fi twist, The One I Love played well, and was indeed a thoughtful examination of the evolution of relationships. The movie asked a number of interesting questions about what it means to truly grow with somebody, and not just beside them, and was a great platform for Mark Duplass and his costar, Elisabeth Moss.
After the film screened, the evening's festivities shifted over to the waterfront, where the Museum of History and Industry (M.O.H.A.I.) hosted the gala portion of the evening. Per usual, festival sponsors catered the event, which saw a delicious array of snacks circulated in the form of everything from ice cream to hummus. The generational divide was also far less pronounced than SIFF's opening night, as the hipsters, and not the cagey senior-aged donors, held the majority. Handlebar mustaches, full-bodied Mohawks, and men in thigh-high gold boots circulated the museum, cocktails in hand; they all took in the scenery and culture that a well-heeled museum, stocked to capacity with admitted deviants, could hope to offer.
In the end, it seemed like an entirely fitting send-off to yet another successful festival, one which saw another impressive slate of films from around the world fall gently onto Seattle like the first flakes of an approaching snowstorm. Like that frozen precipitation, the features that screened at SIFF in 2014 seemed foreign and out of place at first, yet quickly found a home among the community: one that opened up for them like dry, warm ground does for snow that quickly melts upon impact. Although Richard Linklater and his film, Boyhood, was the big winner at SIFF this year, as always, it was the city of Seattle that truly came out on top.
Photos by Holly Jones