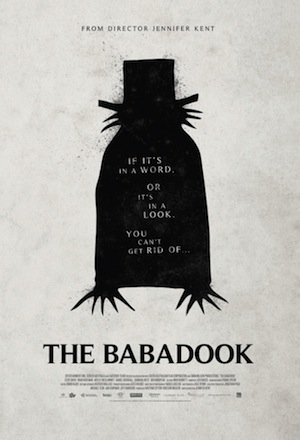 Jennifer Kent has been an actress and filmmaker for years. She has just released The Babadook, her first feature film as writer and director. I was lucky enough to chat with her about films that inspire her, the incredible cohesiveness of vision in her film, the subtle and honest portrayal of female sexuality in The Babadook and much more. I've transcribed a bit of the interview, but consider it an amuse bouche. You'll want to listen to the interview in its entirety at the link below.
TH – What are the five films that you think every burgeoning filmmaker must see?
JK – I would say that David Lynch is one of my favorite filmmakers, and I think a very underrated film of his is Lost Highway. It was really inspiring to me for The Babadook. It is a frightening film. I would call that a true horror film.
Another film that just springs to mind is Elem Klimov's Come and See. It's an amazing Russian film, an antiwar film, which I've heard, I don't' know if it's true, but inspired Spielberg's Saving Private Ryan. If a film student hasn't seen that, they need to go and watch it now. It's a big film. It's three hours long, but it's an expressionist nightmare.
One of my favorites is The Passion of Joan of Arc, the Carl Dreyer film. Which is just an incredible film to me. It's a silent film. It's very moving and is incredibly contemporary still, especially the last half hour in terms of how it's shot. It's a masterpiece.
I don't know if it's my favorite film, but I saw a film To Kill a Man. It's an incredibly confronting look at revenge, and because I'm writing a film this year about revenge, it really hit a chord with me. It was emotionally a very deep film.
And let's just go for one of Polanski's. I love The Tenant. Everyone mentions Repulsion. For me The Tenant, I know it's not a perfect film, but there is something strange and bizarre and funny and frightening about that film that takes me back for multiple viewings. He's a master at creating worlds.
You can hear the entire interview below. You'll want to listen to how Kent's apprenticeship with Lars Von Trier taught her the value of stubbornness, the importance of an incredible art director, and letting the story dictate the genre.
Click here to listen to the full interview.